Arizona Transit Association
Arizona Transit Association (AzTA) is a non-profit statewide organization dedicated to improving public transportation in all Arizona communities. AzTA's mission is to provide leadership in the funding, advocacy and education for public transportation services throughout Arizona.
Featured Content
Bipartisan Infrastructure Law
The Bipartisan Infrastructure Law, as enacted in the Infrastructure Investment and Jobs Act, authorizes up to $108 billion for public transportation – the largest federal investment in public transportation in the nation's history.
Events
Membership in AzTA gives you access to these exclusive events. View all events »
April 3–5, 2023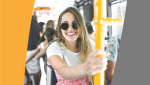 AzTA and ADOT invite you to Arizona's 36th Annual Statewide Transit Conference at the Sheraton Mesa at Wrigleyville West in Mesa, AZ - April 3-5, 2023!
Read More »
September 6, 2023
Read More »
October 1, 2023
Read More »
April 1, 2024
Read More »
Join AzTA
Join AzTA and you will be supporting activities to improve public transit.
News
The latest news concerning Arizona transportation issues. View all news »
Hot Topic!
Valley Metro welcomes two new members to its executive leadership team as the agency evolves preparing for expanded service and increased focus on riders and regional mobility.
Subscribe
Sign up for our mailing list and get notices on transit topics.