Arizona Transit Association
Arizona Transit Association (AzTA) is a non-profit statewide organization dedicated to improving public transportation in all Arizona communities. AzTA's mission is to provide leadership in the funding, advocacy and education for public transportation services throughout Arizona.
Featured Content
Bipartisan Infrastructure Law
The Bipartisan Infrastructure Law, as enacted in the Infrastructure Investment and Jobs Act, authorizes up to $108 billion for public transportation – the largest federal investment in public transportation in the nation's history.
Events
Membership in AzTA gives you access to these exclusive events. View all events »
September 7, 2022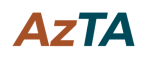 Join AzTA Golf Classic Tournament Title Sponsor CREATIVE BUS SALES on Wednesday, September 7, 2022 to #Tee Off for Transit!
Read More »
October 12–13, 2022

This Maintenance Forum is for Small & Large Transit Vehicle Maintenance Personnel. Don't miss out on AzTA's First Maintenance Forum -- Space is Limited!! Register and/or Sponsor Now!!
Read More »
April 3–5, 2023
Save the Dates! We will be back in Mesa, AZ!
Read More »
Join AzTA
Join AzTA and you will be supporting activities to improve public transit.
News
The latest news concerning Arizona transportation issues. View all news »
Subscribe
Sign up for our mailing list and get notices on transit topics.