Arizona Transit Association
Arizona Transit Association (AzTA) is a non-profit statewide organization dedicated to improving public transportation in all Arizona communities. AzTA's mission is to provide leadership in the funding, advocacy and education for public transportation services throughout Arizona.
Featured Content
Covid-19 Resources
Covid-19 information and resources for public transit organizations.
Events
Membership in AzTA gives you access to these exclusive events. View all events »
May 18, 2021
When President Biden took office in January 2021, it was widely expected that he would make significant changes to a variety of employment-related laws and regulations.
Read More »
August 17, 2021
Registration & webinar description coming soon! If you are interested in sponsoring this webinar, please contact Becky Miller at bmiller@azta.org.
Read More »
September 15, 2021
Join AzTA Golf Classic TITLE SPONSOR SCHETKY BUS & VAN SALES on September 15, 2021 to #Tee Off for Transit! Our AMAZING TITLE SPONSOR will also be providing complimentary SUPER TICKETS to each golfer for all on course events + mulligans this year! (SUPER TICKETS are like GOLD—$60 value) Courtesy of SCHETKY BUS & VAN SALES!!
Read More »
November 15–19, 2021
We are planning for an In-Person Conference with Vendor Exhibits and Vehicles displayed. Join us at the Sheraton Mesa Hotel at Wrigleyville West!
Read More »
April 11–13, 2022
Join us at the El Conquistador Tucson, A Hilton Resort! We are planning for an In-Person Conference with Vendor Exhibits and Vehicles displayed.
Read More »
Join AzTA
Join AzTA and you will be supporting activities to improve public transit.
News
The latest news concerning Arizona transportation issues. View all news »
Hot Topic!
Need a Ride for Mom? New website helps older adults connect more quickly with transportation resources across Arizona.
Hot Topic!
BROOKVILLE EQUIPMENT Corporation, Brookville, PA, has delivered the first of six new off-wire-capable Liberty NXT Streetcar vehicles to Valley Metro, Phoenix, AZ, for the agency's Tempe Streetcar…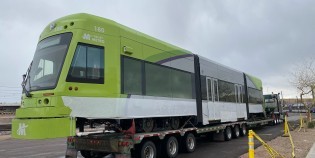 Subscribe
Sign up for our mailing list and get notices on transit topics.