All in this Together: Companies Step Up to Fill PPE Shortages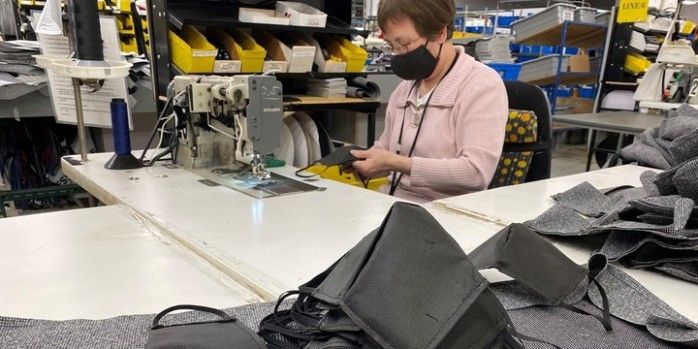 As suppliers to the public transit industry help respond to PPE shortages, some are seeing the potential for new verticals while others are manufacturing PPE products only as long as there's a demand.
The coronavirus (COVID-19) pandemic has disrupted day-to-day life in almost every aspect. It's forced public transit agencies to rethink how to operate services while keeping employees and riders safe; and it's forced some companies to adjust manufacturing protocols as they pivot resources to address personal protective equipment (PPE) shortages, such as creating masks instead of seating fabric or prototyping ventilators instead of producing transit fare gates.
Some companies have identified potential new vertical markets while others plan to only create PPE products as long as there's a need. But whether companies were asked to step up by the healthcare community or felt it was their responsibility to protect employees and local community, they agree everyone is in this together to help public transit agencies respond to and rebound from the COVID-19 crisis.
Graffiti Shield, Inc., (Graffiti Shield) located in Anaheim, Calif., was requested by a Los Angeles, Calif., hospital to provide clear film so the hospital could create makeshift face shields during the PPE shortage. However, Graffiti Shield had the machines and materials needed to create and manufacture the protective face shields, so the company designed, assembled and started producing the product. Within two weeks of production, the company was creating more than 3,000 protective face shields a day, says Angel M. Martinez, director of sales and marketing, Graffiti Shield.
Answering the Call for More PPE
"Graffiti Shield implemented a few different processes in order to effectively and efficiently produce the much-needed protective face shields," Martinez said. "An appropriate social distancing production line was created to efficiently produce the Protective Face Shields. [And we hired] approximately eight additional employees…to fulfill orders at an urgent pace."
While the face shields haven't technically created a new vertical market for the company, it has helped Graffiti Shield to provide a high-demand product to the healthcare and transit agency sectors.
"The ability to produce and provide protective face shields did open up a few new industry doors for the company," explained Martinez. "Having protective face shields as a new product offering allows Graffiti Shield to expand [its] manufacturing efforts and expand its innovative surface protective products and services."
To date, the company has distributed more than 55,000 protective face shields locally and nationally.
"Our company has outstanding employees that had one thing in common: an absolute sense of mission to supply much needed PPE," said Mike Schuch, president, Graffiti Shield.
American Seating also has also been supplying PPE after being recruited by Irwin Seating, a west Michigan-based company, to help supply face masks to Spectrum Health, a hospital system in west Michigan.
Recruiting Resources for the Local Community
"When the call came in early April to make medical-grade masks, it wasn't difficult to adapt our production to meet this need," said Kevin Koehler, vice president of manufacturing, American Seating.
The designs for the masks were created by Grand Rapids-based Steelcase and then shared with other companies, including Irwin Seating, explains Koehler. Irwin Seating then helped American Seating procure the appropriate materials and provided training on how to make the masks. Production and delivery took American Seating about four days from the time it committed to making the masks. Since it started, the company has made 4,500 masks.
"When [employees] heard that the masks were needed by Spectrum Health – that they would be helping healthcare providers right here in our community – they felt this was an important thing to do," said Bush, president and COO of American Seating. "We are additionally compensating the employees working on the masks [to] show our gratitude for their willingness to come into the factory and do this good work during this crisis."
The face masks could potentially create a new vertical market beyond the COVID-19 crisis for American Seating, as the company recognizes the demand for more products to be made in America says Bush. He notes that several customers have inquired about face masks beyond the pandemic—masks not just for medical purposes but also for manufacturing and other environments.
"We're seeing a need, so we're exploring it," Bush said. "We would need to ramp up production, potentially add a shift and of course market the product. It wouldn't be difficult to do; it's a business decision that needs to be explored."
While the company assesses the possibility of continuing face mask production, it will continue to focus on its normal operations, which ramped up May 4 after halting productions March 30 due to changing stay-at-home orders and agencies unable to accept deliveries. Now, Bush says the company is receiving several inquiries about its seating products and other applications to keep people safe.
While American Seating and Graffiti Shield were asked to help with the PPE supply shortage for their local communities, Freedman Seating started producing face masks out of necessity to help keep internal employees safe when face masks were difficult to obtain.
Making Masks Leads to New Products
"We needed to supply PPE to our employees and were having trouble buying masks in the marketplace," said Dan Cohen, president, Freedman Seating. "Even when we could find a supplier with a few hundred masks, we felt a certain responsibility to leave those available for hospitals, health workers and other first responders."
So, the company set to work designing and sewing masks to ensure all employees were covered. Once all employees had masks, the company chose to keep producing as many masks as possible to donate to local police stations, nursing homes and transit authorities.
"We wanted to do our part to contribute to the essential workers facing the same PPE shortages we were seeing," Cohen said.
To date, the company has produced more than 3,000 masks, with the majority being used at its manufacturing facilities. The company has also donated more than 500 masks before it ran into supply and labor shortages. Cohen says the company aims to get its masks back into production within a few weeks as it has a waiting list of agencies and community organizations requesting them.
Though the company hasn't had to pivot its business, it has required the allocation of some resources and delayed discretionary projects. And while face masks themselves haven't created a new vertical for the company, Freedman Seating plans to begin production of two different passenger protection equipment products in the coming weeks, explains John-Paul Paonessa, marketing manager, Freedman Seating.
The products include Passenger Sneeze Guards made from a clear vinyl and Grab Handle Covers made from Dimensions Nanocide vinyl, which has real silver particles embedded to create a natural antimicrobial. Both products can be added to seats and the sneeze guards and can be replaced in the field.
As for the face masks, Cohen says the company will continue to make and donate masks as long as there is a need.
"At Freedman Seating, we consider ourselves a partner to public transit agencies," Cohen said. "We don't plan to market or sell our face masks. We will continue to produce what we can and donate them to first responders and essential workers."
Face masks and face shields aren't the only PPE products companies are manufacturing. At Cubic Corporation's (Cubic) Huntsville, Ala., facility, which is used for Cubic's GATR Antennas operations, the company has designed and prototyped the VentiGATR ventilator, explains Jeff Blakeman, vice president of manufacturing and procurement, Cubic.
From Antennas to Ventilators
"The team has leveraged its inflation unit technology, which is typically used for inflatable satellite antenna systems for the military, to design and build a prototype ventilator that could potentially save lives," Blakeman said.
The VentiGATR has undergone testing and a Food and Drug Administration (FDA) Emergency Use Review. Cubic is currently responding to an FDA Emergency Use Authorization request for more information, which includes verification testing to ensure the device can safely operate in various modes, Blakeman says. If Cubic receives Emergency Use Authorization from the FDA, and the demand is still there, Cubic will produce the ventilator at one of its facilities.
In addition to the ventilator prototype, Cubic has also created face masks and face shields, with the company repurposing its internal manufacturing capacity at facilities inMexico and Tennessee. For instance, at its Tijuana, Mexico, facility, the company is creating "technology-enhanced protective face coverings," explains Blakeman.
"We have partnered with Milliken to use Milliken's BioSmart® engineered material to manufacture general purpose face coverings," Blakeman said. "Milliken's patented BioSmart fabric has been successfully tested against many common bacterial and viral strains."
Cubic has also pivoted its Tullahoma, Tenn., facility, which manufactures the company's transit fare gates, to make face shields. The team there designed and developed general purpose face shields that are lightweight and cover the whole face. Blakeman says the company is currently field testing this product with its transportation customer base.
While these products will not be permanent in any of the facilities, Blakeman says he expects face coverings to continue to be produced at the Mexico facility for some time as the country adopts new social norms.
"We are evaluating investing in more machines and personnel capacity to continue delivering to the demand shortage," Blakeman said.
United Safety and Survivability Corporation (USSC) is another company that has answered the call for much-needed PPE during the pandemic, after several employees with family members in the healthcare industry recognized the need for these items. The company plans to continue producing PPE as long as it is needed and expects there to be a demand for domestically produced PPE on an on-going basis, says Joe Mirabile, president and CEO, USSC.
Recognizing the Need for PPE
The PPE project has also created new product lines for the company. In addition to the nearly 70,000 face shields produced, USSC is also now producing masks and door openers, along with transit-specific PPE such as AEGIS, an antimicrobial spray for interiors and exteriors, a portable UV-C Air & Surface Disinfection Lamp and vinyl seat covers to name a few.
"Essentially, we know that transit operators and passengers will be eager to keep social distancing measures open in a space that often times gets crowded," explains Stephanie Williams Ford, marketing and trade show coordinator, USSC. "The seat covers are designed to put those measures in place as visual cues, while products like AEGIS are specifically for cleaning purposes."
The new line of products will be manufactured at the company's new 200,000-square-foot facility, which is scheduled to open in quarter three of 2020. While these new product lines haven't changed the company's business model moving forward, they do serve as an extension of the company's mission to save lives.
"We've very proud to be able to do our part to help all our public transit agencies address the COVID-19 crisis," Mirabile said.
Whether companies are exploring new product offerings in the wake of manufacturing PPE or are planning to cease operations once demand for PPE eases off, they've all taken their role seriously to provide critical supplies to agencies, organizations and people in need.
Stepping Up as 'Good Corporate Citizens'
"This isn't a product we created in hopes of generating new sales. It was just a way for us to contribute and be good corporate citizens. This is our way of giving back," Cohen said.
Source: MASS TRANSIT