Mountain Line Receives $5.5 Million Grant for Bike and Pedestrian Improvements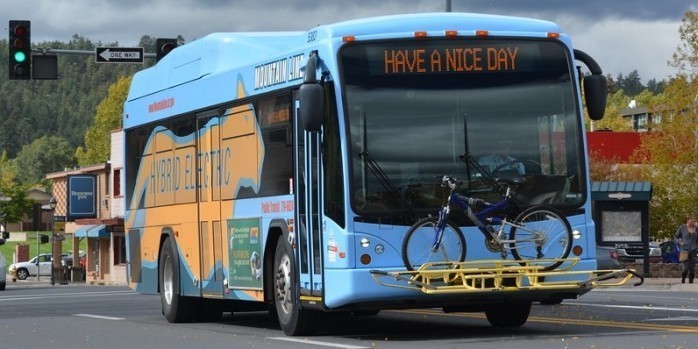 The Arizona Department of Transportation (ADOT) awarded Mountain Line $5.5 million to support the construction of bike and pedestrian infrastructure in association with transit stops.
Mountain Line partnered with the City of Flagstaff on this grant application, with the City committing to pay the required 20 percent local match ($1.4 million) from already approved transportation tax funding. The total investment with the grant and local match is $6.9 million. These "first mile / last mile" connections are integral to a multimodal transit system, allowing seamless travel on foot or bike to and from transit stops.
The bike and pedestrian projects will be prioritized based on the Active Transportation Master Plan list of projects near transit stops. Flagstaff City Council is anticipated to vote on this plan in late spring.
"We know that most people access transit stops by walking or biking, and this grant will allow us to create an integrated transportation network by improving access and connectivity to our stops," said Northern Arizona Intergovernmental Public Transportation Authority Board Chair Steve Peru. "Mountain Line is proud to partner on a project that not only benefits transit, but the Flagstaff community as a whole.
"This grant represents an exciting new level of partnership between the City of Flagstaff and Mountain Line," said Flagstaff City Councilmember Jim McCarthy.
"Working together, they have successfully brought a $5.5 Million federal grant to bike and pedestrian projects in our City. Their collaboration is allowing local tax dollars to go farther and to get more projects done."
In addition to the First Mile / Last Mile funds, Mountain Line also received more than $445,000 for a Technology Upgrade Package. These grant funds will be used to support Wi-Fi hardware for fare consoles to increase reliability, Transit Asset Management software upgrade, Transit Signal Priority (TSP) hardware for buses, and mobile ticketing. These technology upgrades are necessary for Mountain Line to streamline processes and improve service efficiency and reliability for customers.
Mountain Line is the transit agency in northern Arizona operating fixed route bus service on nine routes, paratransit service, vanpool, and seasonal Mountain Express service to Arizona Snowbowl. www.mountainline.az.gov for more information.