Mountain Line's Ace Everett Named to Mass Transit's Top 40 Under 40 for 2022
Mountain Line congratulates Mechanic Andrew "Ace" Everett for being named to Mass Transit Magazine's Top 40 Under 40 list for 2022.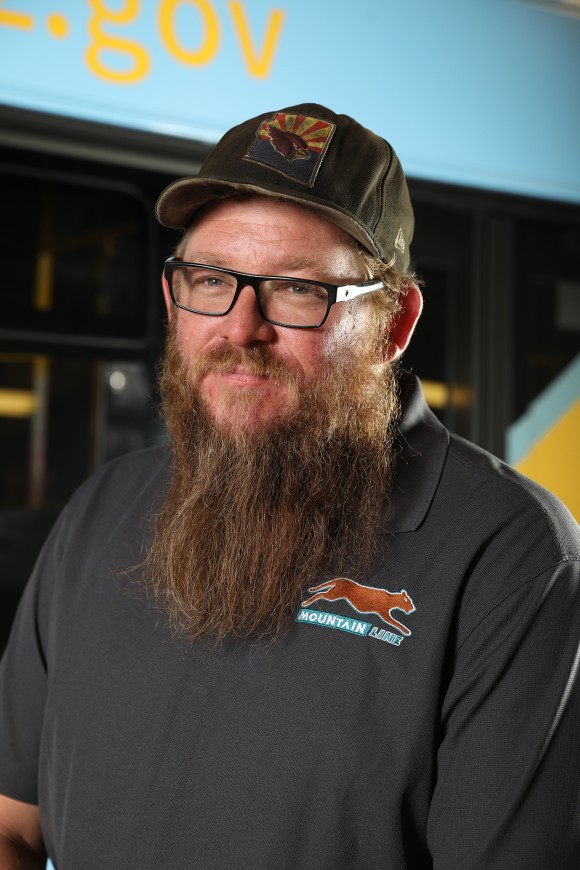 Everett started as Mountain Line's first mechanic more than 13 years ago, bringing fleet services in-house for the first time and only outsourcing for warranty work. During his tenure, Everett has established himself as the agency's "chief problem solver," and is highly regarded both internally and by other transit agencies for his technical and mechanical expertise.
When COVID-19 struck and Mountain Line needed a way to keep drivers safe while operating the bus, many solutions provided by vendors were cost-prohibitive and on back order. Everett took matters into his own hands and fabricated barrier doors to not only provide drivers with virus protection, but also to prevent anyone from entering their space. His ingenuity can be witnessed throughout the Mountain Line shops, from the battery mount he fabricated to remove hybrid batteries from bus roofs to a redesign of the snow traction insta-chains to work with both buses and vans.
Everett now serves as the lead trainer where he passes his knowledge on to other mechanics to make the staff more efficient with Mountain Line's fleet. He got his start by following in his father's footsteps – he's been a mechanic with the Arizona Department of Transportation for 27 years.
"Ace is a tremendous asset to Mountain Line and this entire community, and we are thrilled that his accomplishments are being recognized on a national level," said Mountain Line CEO and General Manager Heather Dalmolin. "Our in-house fleet department is successful due in large part to Ace's creativity, expertise, and his willingness to take on any challenge."
The Mass Transit 40 Under 40 recognizes individuals who have shown a capacity for innovation, demonstrated leadership and a commitment to making an impact in transit.
Mountain Line is the transit agency in northern Arizona operating fixed route bus service on nine routes, paratransit service, vanpool, and seasonal Mountain Express service to Arizona Snowbowl. www.mountainline.az.gov for more information.