New Streetcars for Valley Metro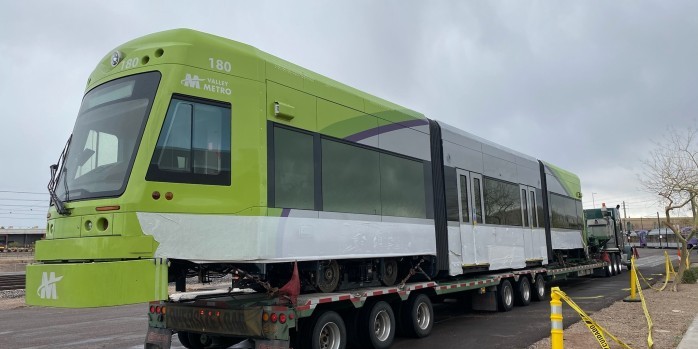 BROOKVILLE EQUIPMENT Corporation, Brookville, PA, has delivered the first of six new off-wire-capable Liberty NXT Streetcar vehicles to Valley Metro, Phoenix, AZ, for the agency's Tempe Streetcar service, expected to open later this year.
"It's an exciting time for us," said Scott Smith, Valley Metro CEO. "The delivery of the first streetcar vehicle opens up a new chapter for regional transit in the Valley." Tempe Streetcar will connect Tempe residents and visitors, as well as Arizona State University students, with key current and emerging local destinations.
The 72-foot-long Liberty NXT Streetcars feature a three-section car body connected by two articulation joints with more than 70 percent available low-floor standing area, station-level easy boarding achieved through an automatic load leveling system, and seating for 40 passengers with the ability to transport 120 passengers. "We are elated to deliver the first Liberty NXT Streetcar vehicle to our friends at Valley Metro," said Joel McNeil, vice president of business development for Brookville. "These vehicles integrate the latest in rail technology systems and are designed and manufactured by an American workforce to provide a long-term transit solution for one of the most prestigious transit agencies in the United States—Valley Metro Rail."
Source: Passenger Transport