President Biden Signs Executive Order Directing Mask Use on Transportation Modes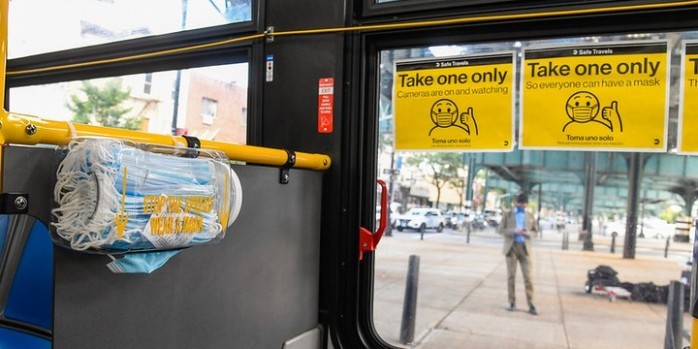 The presidential action follows an order signed during his first day in office requiring mask use on all federal property.
President Joe Biden signed an executive order requiring the wearing of face masks on domestic and international modes of travel.
The action supports guidelines in place by the Centers for Disease Control and Prevention and recommendations by the Surgeon General and the National Institutes of Health.
"Accordingly, to save lives and allow all Americans, including the millions of people employed in the transportation industry, to travel and work safety, it is the policy of my administration to implement these public health measures consistent with CDC guidelines on public modes of transportation and at ports of entry to the United States," the executive order reads.
The action builds on an order the president signed shortly after his inauguration requiring masks to be worn on all federal property.
While mask-wearing requirements exist on various mobility modes, including public transportation, enforcement has not always been easy as states and local governments control these requirements within communities. To encourage mask wearing, transit agencies have installed free mask dispensers onboard vehicles, installed PPE vending machines in stations, handed out masks to riders and, on Metropolitan Transportation Authority, implemented fines for those riders not in compliance with an existing statewide mandate.
The executive order says "the COVID-19 Response Coordinator, in coordination with the Secretary of Transportation and the heads of any other relevant agencies, shall promptly identify and inform agencies of options to incentivize, support and encourage widespread mask-wearing and physical distancing on public modes of transportation, consistent with CDC guidelines and applicable law."
In response to the executive order, Transport Workers Union (TWU) President John Samuelsen did not mince words, calling the action "a long overdue measure to protect workers" and saying it was "about damn time our government lived up to its obligations to public health."
Samuelsen noted "masks save lives" and referenced the more than 10 percent of TWU members who have died, tested positive for or quarantined after exposure to COVID-19.
"This work is not over. The TWU is demanding that states and localities follow the president's example and implement enforceable mask mandates in transportation systems under their jurisdiction. As we mourn the workers who have lost their lives to this virus, we will continue to fight alongside the Biden Administration to ensure that our members – as well as our fellow Americans - have the protections that they need. The only way our country can recover from this awful pandemic is by prioritizing the safety of frontline workers as we reopen our transportation system and our economy," said Samuelsen.
Source: MASS TRANSIT Magazine
Author: Mischa Wanek-Libman
Photo Credit: The Metropolitan Transportation Authority, like several transit agencies, installed mask dispensers in buses to encourage and promote wearing of face coverings - Marc A. Hermann/MTA New York City Transit