Streetcar officially opens for passenger service in Tempe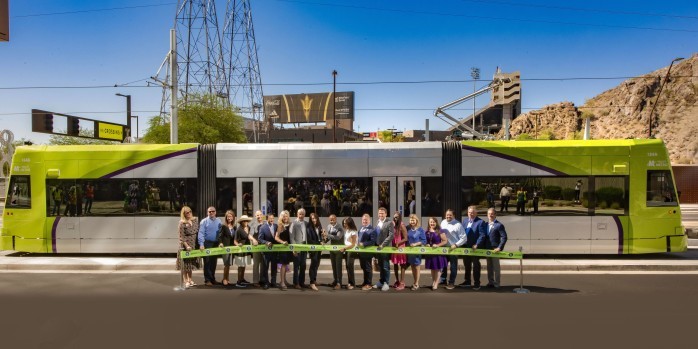 Ride the three-mile route for free during the first year of operations
All aboard the Valley's first modern streetcar! Passenger service on Valley Metro Streetcar began in Tempe at 10 a.m. today after a ribbon-cutting ceremony featuring local leaders and elected officials. The three-mile streetcar route will take riders to major employment centers, entertainment and event destinations, historic neighborhoods and connect to the regional transit network.
"We are so pleased to help support the Tempe Streetcar, which will provide a fast, convenient, car-free option connecting downtown Tempe and Arizona State University," said FTA Regional Administrator Ray Tellis, whose agency provided $75 million to support the project in addition to $17 million in federal funding under the American Rescue Plan. "With connections to Valley Metro's light rail system, destinations like Phoenix, Mesa and Sky Harbor Airport are now just a train ride away."
The hybrid streetcar vehicle travels to 14 stops in Tempe and connects to Valley Metro Rail in two locations. The route serves Tempe destinations such as Tempe Beach Park, Marina Heights, Gammage Auditorium and ASU sports facilities and will support growing travel demand in the central city and region.
"With Tempe having the highest transit ridership per capita in the state, as well as the highest density, a multi-modal transportation network is essential," said Tempe Mayor Corey Woods. "We are building for our future, and the Streetcar is a great example of that."
Public art, created by five Arizona artists, is incorporated at all stops and reflects the culture, architecture and natural beauty of the surrounding area. Learn more about the streetcar's unique public art on the Valley Metro Artsline Interactive Map.
"Streetcar adds another sustainable option for transit riders to move around the Valley and enhances our comprehensive, regional transit network," said Valley Metro CEO Jessica Mefford-Miller. "It's also the start of a streetcar system that we hope to extend into Mesa in the coming years."
Construction on the project began in 2018. The streetcar was funded through a combination of federal grants, regional Proposition 400 and local city of Tempe transportation funds, including a unique partnership between several private sector entities along the streetcar route.
"Modern streetcar would absolutely not exist without the partnership of several creative and bold leaders, including Valley Metro, the City of Tempe and the local business community," said John Graham, President & CEO of Sunbelt Holdings, and one of the more than a dozen business members to raise $13 million for the streetcar project. "We rallied together to help fund this first-of-its-kind public-private partnership because we recognize streetcar's benefit to downtown Tempe and to us as employers and developers along this and future corridors."
Streetcar shares the road with other vehicles and travels with mixed traffic. The vehicle is powered by an overhead electrification system, similar to light rail, and also stores power in a battery to travel off-wire on Mill Avenue. Current service is anticipated every 20 minutes, with frequency improving later this year with the addition of the final two streetcar vehicles.
Learn more about the streetcar at valleymetro.org/streetcar.
Photo attached: Local leaders cut the ribbon before streetcar service begins
About Valley Metro: Valley Metro exists to connect communities and enhance lives each day by providing eco-friendly public transit options in Maricopa County, the fastest growing county in U.S. In Fiscal Year 2021, at just over 27 million riders, transit ridership experienced a sharp decline due to the COVID-19 pandemic and the call for essential trips only on both bus and light rail. While life in metro Phoenix returns to a new normal, progress continues on five high-capacity transit extensions that are either in planning or under construction to create a 50-mile rail system by 2030. In May 2022, Valley Metro opens the region's first streetcar line in Tempe that features the Valley's first off-wire operations in the system. Valley Metro also offers alternative transportation programs including paratransit services for seniors and people with disabilities, commuter vanpools, online carpool matching, bus trip mapping, bicycle safety and telework assistance. Two Boards of Directors from 18 local cities and towns and the county set the policy direction for the agency with the intent of advancing the regional public transit system in Maricopa County. In addition to federal and local funds, Valley Metro receives critical capital and operations funds from Prop. 400, the 20-year, regional half-cent transportation sales tax that is set to expire in 2025. Stay up-to-date by following us on Facebook, Instagram, YouTube and Twitter or by visiting valleymetro.org.