Sun Tran Using Clean Fuel Technology To Promote Climate Resilience In Tucson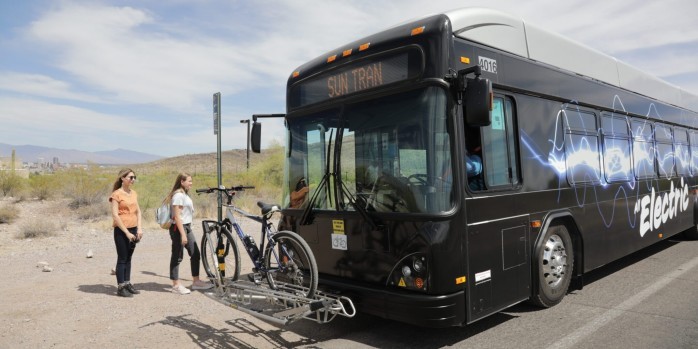 Sun Tran, which provides public transportation in Tucson via bus, the Sun Link streetcar and Sun Van, has set purposeful goals to contribute to a cleaner, healthier community.
To reach the goals of reducing emissions and improving air quality throughout Tucson, the transit system has undertaken a number of sustainability initiatives such as using alternative fuel vehicles and retrofitting facilities. Each month, the transit system provides approximately 1.2 million rides via bus, the streetcar and paratransit services.
"Public transportation provides a valuable opportunity to help diminish climate change within the Tucson community," said Sun Tran General Manager, Steve Spade.
One of the targeted approaches Sun Tran takes to improve climate resiliency is by reducing harmful emissions. Sun Tran and the City of Tucson began experimenting with alternative fuels more than two decades ago. As early as 1987, Sun Tran converted a bus to use both compressed natural gas (CNG) and diesel fuel. This was one of the first such buses in the country. Since 2006, 100 percent of Sun Tran's fleet has utilized clean fuel technology.
Sun Tran Bus Fleet:
57% Compressed Natural Gas (CNG)
27% B5 Biodiesel/Urea
8% B5 Biodiesel
5% Hybrid
3% Electric
Currently, more than half of Sun Tran's active fleet is powered with CNG. This is the same fuel used by many furnaces, stoves and water heaters. CNG buses lower air pollution by emitting 90 percent less carbon monoxide, 90 percent less hydrocarbons and 50 percent less nitrogen oxides than diesel-fueled buses. This fuel source also offers significant cost savings over diesel.
The next-largest fuel source for the bus fleet is B5 bio-diesel. Bio-diesel is a domestically produced, renewable fuel that can be manufactured from vegetable oils, animal fats, or recycled restaurant greases. These buses help preserve Tucson's air quality, as bio-diesel emits significantly fewer particulates than traditional diesel-fueled vehicles. The majority of Sun Tran's bio-diesel buses are also equipped with technology that utilizes a urea solution injected into the exhaust gases to meet tighter Environmental Protection Agency emissions standards. This section of the fleet will continue to shrink as Sun Tran buys new vehicles.
"Sun Tran is committed to building a sustainable fleet that contributes to a cleaner environment," said Spade. "Currently, Sun Tran purchases both CNG and battery electric buses. Based on the current fleet carbon neutral plan, all-diesel buses will be replaced with either CNG or electric by 2028."
Sun Tran also currently uses hybrid electric technology in 5 percent of the active fleet. These buses utilize a 600-volt battery pack, which is recharged while the bus is coasting and braking. Hybrid buses offer low emissions and can achieve up to 60 percent better fuel efficiency when compared to a bus with a conventional diesel engine.
The newest clean fuel source for the bus fleet is electricity. Sun Tran made history in 2021 by being the first transit system in Arizona to launch fully-electric buses. Five electric buses are in service now and five more will join Sun Tran's active fleet this fall. New funding from the Federal Transit Administration is allowing the electric fleet to continue to grow.
"This grant will make history by allowing Sun Van to launch its first set of electric vehicles," said Spade. "It also doubles Sun Tran's electric fleet and makes new Sun Shuttle service options possible."
The battery-electric buses manufactured by GILLIG, LLC emit zero emissions. Research indicates that an electric transit bus can save an average of one-half barrel of diesel every day.
In addition to buses, the Sun Link streetcar is another public transportation mode fully powered by electricity. With peak ridership nearing 150,000 per month, the streetcar is able to provide all of those rides without producing any harmful emissions.
Transit facilities throughout Tucson provide another opportunity to go green. Sun Tran, Sun Van and Sun Link installed solar panels at their facilities to harness the power of the sun and generate clean energy. Sun Van has also implemented xeriscaping at the paratransit facility to help conserve water. Meanwhile, solar panels installed at dozens of bus shelters in 2018 power light panels at the stops.
These efforts help the transit system save money and resources, while also reducing its impact on the environment. Sun Tran is committed to continually improving sustainability efforts in order to provide safe, reliable, and affordable transportation for the Tucson community now and in the future.
You can help Sun Tran and the environment by doing your part:
Ride one of the 185 Sun Tran buses or 8 streetcars instead of driving. Every passenger counts!
Be prepared to board the bus or streetcar so that the driver does not have to idle while waiting for you.
If possible, use a Park & Ride location. This helps reduce traffic and pollution in our city center.