Transit on the Lookout to Combat Human Trafficking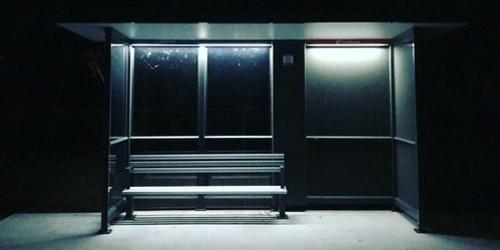 Truckers Against Trafficking reports there are several points of intersection between transit and human trafficking: Traffickers recruit victims at bus stops or transit centers and utilize buses to transport victims to and from places where they will be sold. When victims are able to get out, transit can be a lifeline.
In 2019, a Lakefront Lines bus driver in Ohio was approached by a young woman on his bus who told him that she was being held against her will and forced into prostitution by a male passenger on the same bus. The driver—who had recently completed the Busing on the Lookout (BOTL) anti-human trafficking training—notified dispatch and the Lakefront Lines safety team immediately sprang into action and got law enforcement on the scene. As more details of their circumstances were revealed, the young woman was connected to resources and the alleged trafficker was arrested.
Human trafficking—or modern day slavery—is a global problem in which people are illegally bought and sold for forced labor or commercial sex. There are an estimated 40 million victims of human trafficking globally, including thousands of children and adults in the United States and Canada. Traffickers prey upon vulnerabilities, which are exacerbated by racial discrimination, past experiences of abuse, economic inequalities, migration status and fear of law enforcement. This crime disproportionately victimizes people of color. It is paradoxically both a hidden crime and one that regularly occurs in plain sight as traffickers are banking on the public to be ignorant and apathetic as they exploit their victims for profit.
Given their essential role in communities throughout the United States and Canada—and the ways in which transit employees may be coming into contact with human trafficking in the course of their everyday jobs—transit agencies have a particularly important part to play in combating this crime. In one study, 42 percent of survivors of trafficking in the United States stated that buses were used in the facilitation of their exploitation, while 26 percent reported that public or mass transportation played a role in at least one of their exit attempts.
Transit employees—including bus drivers, maintenance staff, ticket counter personnel, janitorial staff, security guards, etc.—are uniquely positioned to observe traffickers lurking around bus stations or transit centers as they look for potential victims. They may notice red flags among passengers that suggest they are under the control of a trafficker or pimp. In other situations, transit employees may find themselves approached by victims who view the transit center or bus as a safe place to seek help.
And transit employees should never discount how meaningful small acts of kindness can be for victims. As traffickers systematically break down their victims, an interaction with a caring person can make an extraordinary difference. Liz Williamson, a survivor advocate and public speaker, shares a story of how early one morning when she was trying to leave her trafficker, a bus driver named Paul found her sleeping at the bus stop. Without shoes on her feet or anywhere to go, Paul welcomed her onto his bus, gave her his sandwich and talked to her about his wife. Liz describes how through those small yet significant gestures, Paul made her feel like she was no longer invisible.
Transit agencies can prepare for possible encounters with human trafficking by training their staff, establishing internal reporting policies, connecting with their local anti-human trafficking task force and allocating some of their advertising space to victim-centered awareness campaigns. All of these steps can be integrated into a transit agency's regular operations to ensure that their engagement is sustainable and coordinated.
For example, not long after the San Diego Metropolitan Transit System rolled out its anti-human trafficking program in 2019—which included the BOTL training video—their transit security personnel made note of a man at one of their transit centers acting aggressively toward a young woman. When the same man later returned to the transit center and was seen approaching other young women, transit officers shared their suspicions and evidence with the San Diego Human Trafficking Task Force which coordinated with other law enforcement agencies in California. The investigation culminated in the arrest of the man at a motel near Los Angeles where he and an accomplice were holding a young woman against her will.
Knowledge is power in the fight to end human trafficking, which is why BOTL is working to educate, equip, empower and mobilize members of the bus industry to move from passive bystanders to active disruptors. Transit agencies can partner with BOTL to access free anti-trafficking resources, including a 30 minute bus industry-specific training video, the BOTL wallet card or app, and a series of posters that BOTL designed in consultation with survivors of trafficking. In order to support transit agencies in developing locally-tailored anti-human trafficking initiatives, BOTL created the resource, "Transit on the Lookout to Combat Human Trafficking: A Toolkit for Transit Agencies," that offers step-by-step guidance to transit managers on best practices, training resources and options for implementing the BOTL training.
For more information or to access BOTL's free resources, please contact Annie Sovcik, director of Busing on the Lookout, at asovcik@truckersagainsttrafficking.org or visit www.truckersagainsttrafficking.org/bus-training.
———————————————————————————————-
Annie Sovcik is the director of Busing on the Lookout (BOTL), a program of Truckers Against Trafficking (TAT). As BOTL director, Sovcik is responsible for leading TAT's efforts to educate, equip, empower and mobilize members of the bus industry in the United States and Canada to combat human trafficking.
Source: MASS TRANSIT