Member Directory

Central Arizona Governments (CAG)
The Central Arizona Governments (CAG) was incorporated in 1975 and is one of six regional planning districts, or Councils of Government (COGs), which was established by Executive Order 70-2 and signed by the Governor of Arizona to provide effective regional planning services to Gila and Pinal counties. The goal of Executive Order 70-2 was to promote a "community of interest" and to preserve the boundaries of the region. The Executive Order established a population base throughout the region sufficient to support a number of planning activities, while complying with federal planning requirements and addressing the concerns of local government officials. The CAG Region is comprised of Gila and Pinal counties, and includes the 17 incorporated communities of Apache Junction, Casa Grande, Coolidge, Eloy, Florence, Globe, Hayden, Kearny, Marana, Mammoth, Maricopa, Miami, Payson, Queen Creek, Star Valley, Superior and Winkelman. The Ak-Chin Indian Community, Gila River Indian Community, San Carlos Apache Tribe, and White Mountain Apache Tribe are also members of the region.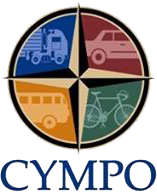 Central Yavapai Metropolitan Planning Organization (CYMPO)
1971 Commerce Center Cir, Suite E
Prescott, AZ 86301
The Central Yavapai Metropolitan Planning Organization (CYMPO), a partnership of Chino Valley, City of Prescott, Dewey-Humboldt, Prescott Valley, Yavapai County and the Arizona Department of Transportation, was established in June 2003 by federal mandate when the region achieved a population of 50,000. Its purpose is to cooperatively plan the transportation future of the Central Yavapai region that falls within the 401.46 square miles of the MPO Planning Boundary Through this cooperative effort, the participating agencies have made a commitment to their citizens that as the region grows, their multi-modal transportation system will grow with it to accommodate all needs, including roads and highways for cars and trucks, public transit, and pathways for bicycles and pedestrians.

Central Yavapai Transit Foundation
https://www.cytfoundation.org/
Supporting Alternative & Public Transportation in Central Yavapai County
We envision a comprehensive, multi-modal transportation network for central Yavapai County where all people have accessible and affordable public transit options available to them.

City of Avondale
https://www.avondaleaz.gov/home
Living in Avondale means belonging to a vibrant community that really does have something for everyone. Many residents enjoy living in our family-oriented neighborhoods. Avondale prides itself as a wonderful community for people to live, work and play. As one of the area's fastest growing communities, the City strives to provide open spaces and recreational amenities, and works to attract quality businesses and employers to the area.
City of Benson
City of Bisbee
City of Bullhead City
City of Coolidge
City of Cottonwood
City of Douglas
City of Flagstaff
City of Glendale
City of Kingman
City of Maricopa
City of Nogales
City of Peoria
8401 West Monroe Street
Peoria, AZ 85345
Contact
Kevin Burke
(623) 773-7435
City of Phoenix
City of Scottsdale
City of Show Low
City of Show Low/Pinetop- Four Seasons Connection
City of Sierra Vista - Vista Transit
City of Surprise
City of Tempe
City of Tucson
City of Winslow
Civitan Foundation of Arizona/Southern Nevada, Inc.
Civitan Foundation/Williams
Cochise Association for the Handicapped
Cochise County Highway Department
Coconino County Council on Aging
Coconino County Transportation Services Department
Cocopah Indian Tribe
Colorado River Indian Nations
Comite de Bienestar
Community Counseling Centers, Inc.
Community Outreach Program for the Deaf
Compass Health Care, Inc.

Complete Coach Works
Complete Coach Works (CCW), headquartered in Riverside, CA, is the largest bus remanufacturing and rehabilitation company in the United States. During its more than 35 years in business, CCW has become known as a full-service provider of transit repair solutions.
Our line of transit services includes rebuilds, repowering, retrofits, CNG conversions & re-tanking, body work, painting, collision repair, and fire repair.
Coolidge Senior Center
COPE Behavioral Services, Inc.

Creative Bus Sales
https://www.creativebussales.com/
Creative Bus Sales offers dedicated sales, parts, and service departments to help you in all stages of bus ownership. As a family-owned business with experience in the transportation industry since 1980, it's no coincidence that we've grown to become the nation's largest bus dealership. In addition, our new and used buses for sale undergo a bumper-to-bumper inspection to help protect your investment. Our customers benefit from our strong manufacturer partnerships, the largest in-stock inventory, and a nationwide team of experts. Unlock the industry's best pricing by browsing our inventory where you'll find a huge selection of new and used buses.
Cummins Sales & Service
651 N 101st Avenue
Avondale, AZ 85323
https://www.cummins.com/sales-and-service
Whether you are in the market to purchase a new piece of Cummins-powered equipment or need assistance with an existing Cummins engine, generator or component, our network of friendly experts are eager to help.
Contact
Phil Cochren