Member Directory
Rainbow Acres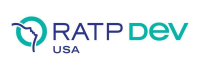 RATP Dev
https://www.ratpdevnorthamerica.com/
RATP Dev brings 46 years of success in managing and operating high-quality, safe, responsive and efficient transit systems throughout the United States. As part of a broader global organization, RATP Dev marshals the resources, talent and innovative spirit from our global operating agencies. With our unique history of designing, managing, operating, maintaining and modernizing all forms of public transport, we offer an unmatched level of expertise.
Regional Transportion Authority - Pima (RTA Pima)
Renaissance House - Womens Transition Project

Ride Co.
RideCo was the first company to offer an on-demand solution to help agencies and municipalities transform their transit systems.
We turn static transit systems into dynamic and integrated networks. Our software is designed to help you plan, operate, and optimize service productivity while reducing your transit costs.

Rousch Clean Tech
https://www.roushcleantech.com/
ROUSH CleanTech, a division of the global engineering company Roush Enterprises, is an advanced clean transportation solutions company. We have focused on developing innovative and reliable clean fuel system technology since our inception in 2010.
Our company designs, engineers, manufactures and installs clean technology fuel systems, including propane autogas technology for medium-duty Ford commercial vehicles and school buses.
ROUSH CleanTech delivers economical and clean transportation options. We've sold over 37,000 vehicles across the U.S. and Canada. Chances are, you've seen one of our school buses, transit shuttles or commercial vehicles on the road.
Rural Transportation Advocacy Council

RWC Group
RWC Group is a commercial truck and bus dealership. We have 700 employees spread across several locations in AZ, CA, OR, WA and AK. The company sells and leases all kinds of trucks and buses to meet all of your needs. We provide a wide array services including repair, maintenance, alignment, DPF cleaning, body shop and mobile service. Our extensive parts inventory includes OEM parts from a vast list of manufacturers so we're sure to have what you're looking for.