Member Directory
Rainbow Acres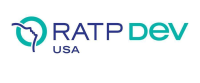 RATP Dev
https://www.ratpdevnorthamerica.com/
RATP Dev brings 46 years of success in managing and operating high-quality, safe, responsive and efficient transit systems throughout the United States. As part of a broader global organization, RATP Dev marshals the resources, talent and innovative spirit from our global operating agencies. With our unique history of designing, managing, operating, maintaining and modernizing all forms of public transport, we offer an unmatched level of expertise.
Regional Transportion Authority - Pima (RTA Pima)
Renaissance House - Womens Transition Project
Rosco Vision Systems
Founded in 1907, Rosco, based in Jamaica, N.Y., is one of North America's leading suppliers of backup camera systems, mirrors, visors, video recording, sensor products, collision avoidance systems and other visual safety solutions to the worldwide commercial vehicle market. For over a century, Rosco's vision has remained exceptionally clear.
Rural Transportation Advocacy Council